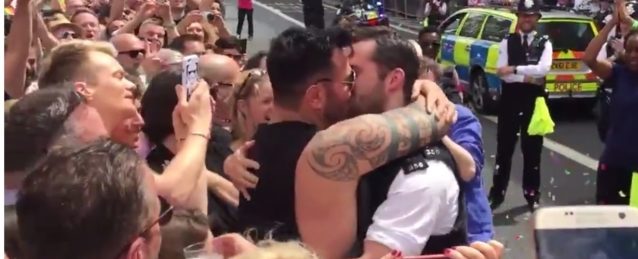 Policeman whose Pride marriage proposal went viral faced a wave of online hate.
-
A police officer who got engaged during Pride in London has opened up about the horrific abuse he got afterwards.
Last year's Pride in London was livened up with two separate viral proposals from gay Metropolitan Police officers marching in the parade.
PC Phil Adlem got down on one knee to propose to his partner Jonathan Sammons, while PC Sam Philpot separately popped the question to PC Martin Coughlan.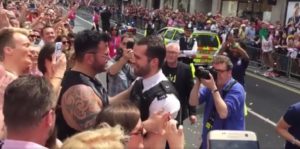 The clips of the proposals went viral around the world, but sadly some people took a moment of love and reacted with hate.
Writing for the Guardian, PC Adlem confessed that he was taken aback by a tidal wave of hostility after the clip went viral.
The pair were on the receiving end of hundreds of abusive messages, many of them deeply homophobic and insulting.
He wrote: "To suddenly be the focus of an international viral video was unexpected and surreal to say the least.
"I had believed that it would stay within the Pride 'bubble', like similar things do every year.
"Nevertheless, I was on an emotional high in the immediate aftermath: I had a wonderful fiance and I was getting amazing messages of support from friends and colleagues."
He added: "I looked through the online comments from the British public. Most were fantastic. Some made me laugh for the wrong reasons.
The Met's LGBT Network has said it will take action against the trolling, and tweeted: "Sad to see grossly offensive homophobic trolling about our #marriageproposal but don't worry we're the police so we'll be taking action."